The Complete Indiana Jones and the Fate of Atlantis
Game Guide

By Marc "Darth Maul" Binda
and John "ThunderPeel2001" Walker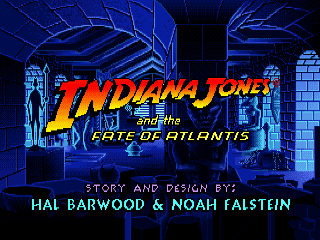 Welcome to the most complete Fate of Atlantis Game Guide available on the internet!

Darth Maul
Back in 1993 or something, I discovered this game. I had played the last Indy game on the PC, Indiana Jones and the Last Crusade and I liked it very much. When Lucasarts released this game, I was ecstatic. I've always loved the Lucasarts graphic adventure games (Maniac Mansion, Monkey Island, etc) and I've always loved Indiana Jones. Anyway, back when I was playing this wonderful game (Indiana Jones and the Fate of Atlantis), I got the urge to write a walkthrough for it. It covered all of the 3 paths that you can choose to complete the game and everything. Sadly, when I sold my old 386 computer, I forgot to put my walkthrough on a diskette, so I lost it. So, on May 25th 2001, I decided that I was going to rewrite my walkthrough for the game and submit it to GameFAQs as my first submission ever.

Thunderpeel2001
After creating my Last Crusade Game Guide everyone kept asking me about a Fate of Atlantis one. I eventually decided to do one but came to the conclusion that it would be a huge waste of time to retread what has already been done, so I set out to find the most complete and well-written FoA guide I could find. Marc Binda's fit the bill perfectly. I added new information which was missing from every FoA guide I could find (like the infamous "Suckerpunch" option) and submitted it to Marc. Thankfully he loved the new additions and the most complete FoA guide in existence was created!

Enjoy reading!

Start Here

(This site is not affiliated with LucasArts Entertainment Company or LucasFilm in any way!)

PS - If you spot any errors in the guide, please mail me. Thanks!


WHERE TO BUY Click here to list all copies current being sold on eBay.
(Sellers will often ship goods internationally if asked nicely! :)
---




Finally bringing you a Fate of Atlantis Goodness on the 22nd November 2003!